We've finally come to the last post in this series. A few days late— busyness and a mild relapse of tendonitis prevented me from getting it written for Good Friday —but better late than never.
In the previous post we looked at Jesus' Carrying of the Cross. In this final post, we'll examine the Fifth Sorrowful Mystery, the Crucifixion, and sum up everything we've discussed so far. If you've missed the previous posts in the series, I encourage you to check out Part 1 for an explanation of what I'm doing with them.
This final Mystery might come across as a largely physical torture, much like the Scourging at the Pillar,  and thus it might not seem to have a lot in common with the sufferings that come along with mental illness. After all, it's hard to compare psychosis or depression to getting your hands and feet nailed to a tree and being left to hang there until you die— and this after all of the other things Jesus had gone through.
Some might make the argument that mental and emotional suffering are worse than physical suffering, or that Jesus was only on the cross for 3 hours, whereas mental illness episodes can last for weeks and months. But as I said before, mental/emotional pain and physical pain are two different things that can't be compared very effectively, and considering Jesus was sweating blood the previous day from his emotional and mental anguish, I have a feeling his level of suffering during those moments was worse than the amount of suffering stretched out in a month long (or longer) episode of depression.
But I digress.
For the purpose of this post, what I want to focus on is something that Jesus said while hanging on the cross:
 "My God, my God, why have you forsaken me?" ~ Matthew 27:46
What is hell? Biblical imagery gives us scenes of fiery torment, souls burning endlessly in agony. But setting aside all of that, what is the definition, the very essence, of hell? I would say it's to be cut off completely from one's creator, the source of all goodness, light, and love. I don't think it much matters whether images of hell fire are meant to be taken literally or not, because to be utterly cut off from God, in and of itself, would be an infinitely greater torment than what any fire could cause.
What am I getting at here?
I'm saying Jesus experienced hell, for our sake, in a very literal sense. The Apostles Creed says "he descended into hell," but in that case, "hell" is simply a word referring to the place of the dead, not the place of the damned. He went there to share the Good News that heavens gates were now open to them. But when Jesus was hanging on the cross, he experienced something that we simply cannot comprehend with our human intellects, because we cannot comprehend the Trinity. God the Father turned his back on God the Son, for the sake of our sins. It wasn't for all eternity— or maybe in some sense it was; God is outside of time, after all —but Jesus  was given a taste of what the souls in hell are sentenced to. In his time on earth, he experienced far more suffering than any human soul ever can or ever will, because he bore the weight of all our sins, all our guilt, all our sorrows. According to Isaiah:
"He was despised and rejected by men; a man of sorrows, and acquainted with grief; and as one from whom men hide their faces he was despised, and we esteemed him not. Surely he has borne our griefs and carried our sorrows; yet we esteemed him stricken, smitten by God, and afflicted." ~ Isaiah 53:3-4
So how does this tie into mental illness? Sometimes, in the midst of our trials, we feel that God has abandoned us. Maybe intellectually we realize he hasn't, but it sure feels like he has. We can't feel his presence. We are utterly miserable. Our prayers seem to be going unanswered. It's like we've been forgotten. Rejected. Forsaken. And Jesus fully understands the feeling. We might not understand why God chooses to allow us to go through such experiences, but there's obviously a reason or he wouldn't put us through it; and we certainly aren't on our own in the experience. God did the very same thing to Himself. Jesus gets it.
So what does all of this mean? We've walked through each of the Sorrowful Mysteries and have seen the different ways in which Christ has entered into the very same sufferings that the mentally ill are forced to endure. If you still feel at some level that what Jesus went through doesn't match up with your own suffering, bear in mind what I said back in part 1: Jesus lives in you. He experiences what you experience every moment that you're alive. Why do you think it hurts him so much when we sin? Especially when we sin by hurting other people. He feels our pain, very literally. When he chose to enter into the human experience, he chose to enter all of it— not just the pieces of it that a carpenter's son living in ancient Palestine would have gone through. He understands what mental illness feels like far better than anyone else ever can or will— he's experienced every form of it in existence, at every level of severity and in all life circumstances that accompany it. This is why the letter to the Hebrews can say:
"we do not have a high priest who is unable to sympathize with our weaknesses, but we have one who in every respect has been tested as we are, yet without sin." ~ Hebrews 4:15
Taken by itself, that statement isn't particularly helpful. Great. So we aren't alone in our misery. How does that help us any? The next verse offers the perfect answer:
"Let us therefore approach the throne of grace with boldness, so that we may receive mercy and find grace to help in time of need." ~ Hebrews 4:16
Because Jesus knows precisely how much we are suffering, we can go to him, boldly, and ask for his help. And he will have mercy on us and give us grace to help us endure our trials.
The catch is, of course, we have to go to him first. We have to approach him and ask for help. If we keep ourselves at a distance and refuse to acknowledge that we need assistance, there isn't much he can do for us. But we've been promised time and again that he will look after us if we surrender ourselves to his care:
"O poor little one, tossed with tempest, without all comfort, behold I will lay thy stones in order, and will lay thy foundations with sapphires."

~ Isaiah 54:11

"Take courage, my children, and cry to God, for you will be remembered by the one who brought this upon you."

~ Baruch 4:27-29

"Weeping may linger for the night, but joy comes with the morning."

~ Psalm 30

"Be strong, and let your heart take courage, all you who wait for the Lord."

~ Psalm 31

"The Lord is near to the brokenhearted, and saves the crushed in spirit. Many are the afflictions of the righteous; but the Lord delvers him out of them all."

~ Psalm 34

"For he delivers the needy when they call, the poor and those who have no helper. He has pity on the weak and the needy, and saves the lives of the needy."

~Psalm 72

"Blessed are those who mourn, for they will be comforted."

~Matthew 5:1-12

"We know that all things work for good for those who love God, who are called according to his purpose."

~Romans 8:28

"I have the strength for everything through him who empowers me."

~Philippians 4:13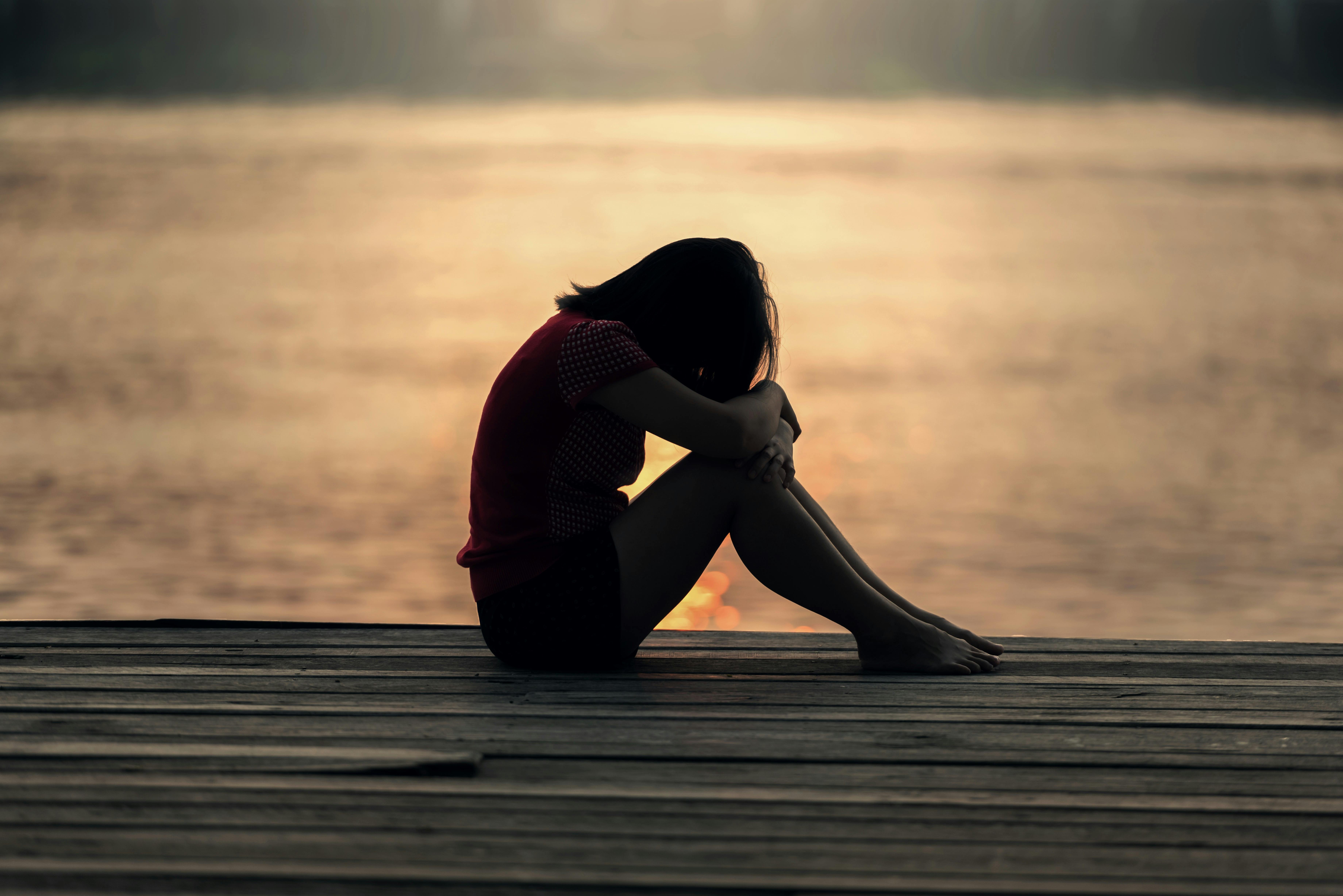 Mental illness is a cross— a very difficult one at times. But for those of us that have it, we have to keep in mind that there is a purpose behind it. You might not have discovered what that purpose is yet in your own case. I know it took me a while to discover the purpose for mine, but as time passes I continue to uncover more and more reasons why what I first looked on as a curse has actually become a very odd blessing in a rather unpleasant disguise. If we can truly wrap our minds around the fact that our illnesses were not dealt out to us out of spite, and that the God who allowed us to have them wants to help us manage them, the whole situation becomes a little bit easier to handle. But it requires faith. And faith is hard. Especially when it feels like God is quite simply ignoring you.
When you start to question whether or not God truly loves you and is going to look after you, stop for a moment and picture Jesus on the cross. He put himself there. For you. But there's more to it than that. Do you honestly think God ever once stopped loving his only begotten son as Jesus went through the experience of taking on all of our sin and guilt? No. But still Jesus felt completely abandoned by his Father as he hung there on the cross. Even so, he commended his spirit into his Father's hands as he died. And his Father raised him up to new life on the third day.
He will do the same for you if you cling to your faith, even if it's just by the ragged ends of your fingernails. And not just after you die:
"I believe that I shall see the goodness of the Lord in the land of the living! Wait for the Lord; be strong, and let your heart take courage; wait for the Lord!" ~ Psalm 27
Waiting can be hard. Take it from someone who has spent the last few years doing a lot of it, for various different health problems, not only mental ones. But answers do come eventually. Never stop praying. He will be there for you.
Take care and God bless,
Kasani